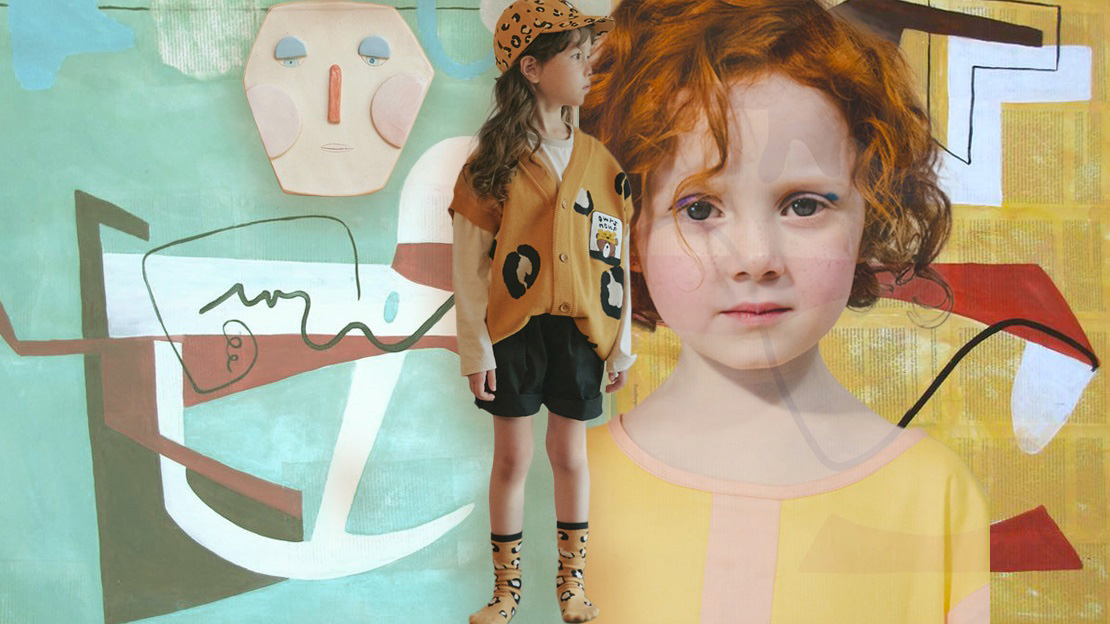 Under the luxuriant light of the earth, nature presents a clean and warm color, such as the bright and warm lemon yellow as the sun, or like the gorgeous ginger red as the sunset, nature also can not be short of the most pure color of nature — purple grass green, a kind of color that can balance the mood. Colors are nature's palette.In harmony with the soft pink puff, let the earth present a more gentle and harmonious scene.
Design direction
This series of patterns are mainly based on rough brushwork, no longer emphasizing exquisite and delicate patterns. The interesting simple brushwork sketches are concise and full of artistry. With soft and clean colors, they give people a pleasant and bright feeling, which not only conforms to the childlike personality of children, but also shows the nature artistic creation of children.
Process details
The oversized bubble sleeves full of artistic modeling make the clothes more retro flavor, irregular flabber stitching design, the small creative details of wool edge out-exposing, and the display of oversized skirt make the original ordinary clothes full of new ideas. Whether it's a round collar with a double falbala or a color contrasting double doll collar,or perhaps the thread collars stitching and color contrast stripe and other small ideas all add a lot scores to whole dress.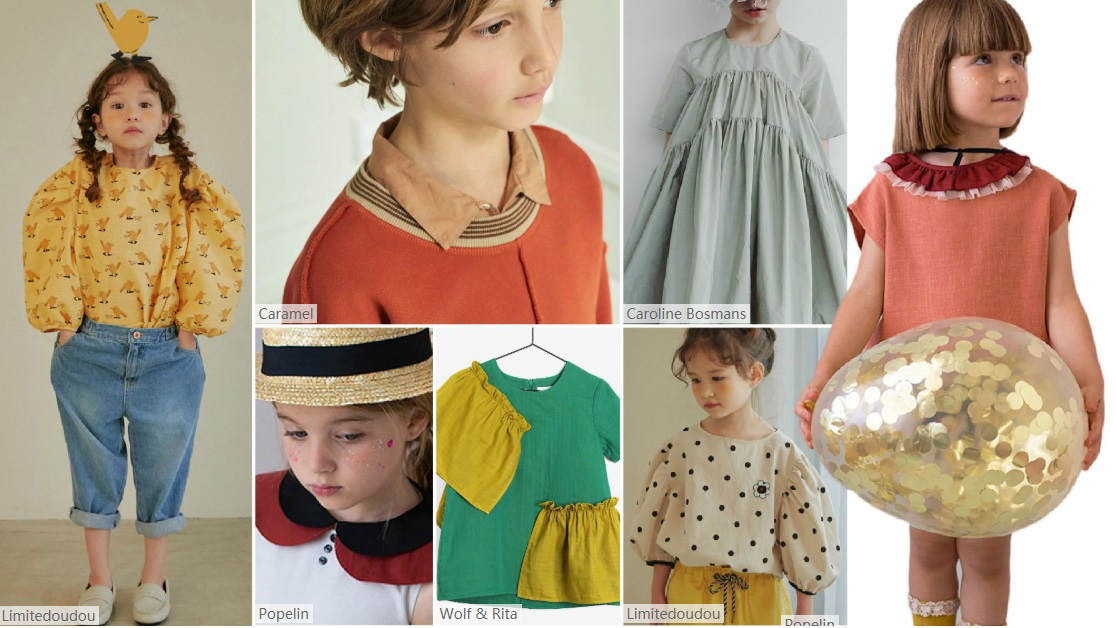 The fabric type
Soft, comfortable and breathable organic cotton and linen fabrics are made full of texture after pleating and washing, which makes the fabric more diversified in the form of expression. With soft and natural colors,simple and interesting patterns and washing effects, the fabric is given a new definition, which is the main fabric of this season.Yarn wool fabric, through different processing and weaving techniques ,not only meets the cool hollow out effect in summer, but also keep warm in spring of warm and cold .
The key category
Different from the traditional convention overalls, no matter the fabrics material or patterns in this season has more expression forms, edition modeling is more diversification, the design of tightening foot mouth increases the fashionable degree of overalls more, the join of falbala lets the overalls more sweet and flexible.
Combination of goods — spring
Soft pink puff is just right to adjust the saturated ginger red, with its perfect fusion, matching with the pure purple grass green, bright without loss of warmth, and then dotted with a touch of lemon yellow to make spring more active and moving.The color contrast sweater which contrasts bright but harmonious is the indispensable fashionable item in spring. The fleece coat of concise jacquard knits matches with profile feeling jumpsuit, not only fashion and leisure but also give a little lively and lovely .
Combination of goods — summer
Cool and refreshing summer, with purple grass green and yellow to present fresh and clean visual effects. Paired with a soft pink puff, Poseidon blue makes the whole summer refreshing and comfortable. High-waisted tops with oversized bubble sleeves are sweet and stylish. Novel and fashionable silhouette pants is also a big bright spot in this season.