Tight long sleeve workout shirt is a close-fitting and slim, long-sleeved yoga top. The bottom is brief, sides shows thin and long legs. Front and behind close-fitting arc bottom effectively modify the curve of belly and hip, but also play a good role in keeping warm. The fabric is skin-friendly and soft, with the advantage of absorbing sweat and drying quickly. The elasticity is very good, suitable for long time yoga training.The mesh stitching on the back line foil the sexy feeling of the item,sexy breathable and sweat. Exquisite flat stitching can enhance the clothinng line feeling, the stitching part is firm and durable. Classic large round collar design, liberally showing the collarbone, extending the neck visually,the overall look more slimmer and taller.Close-fitting cutting modeling show graceful posture, waist closed to draw out the exquisite curve.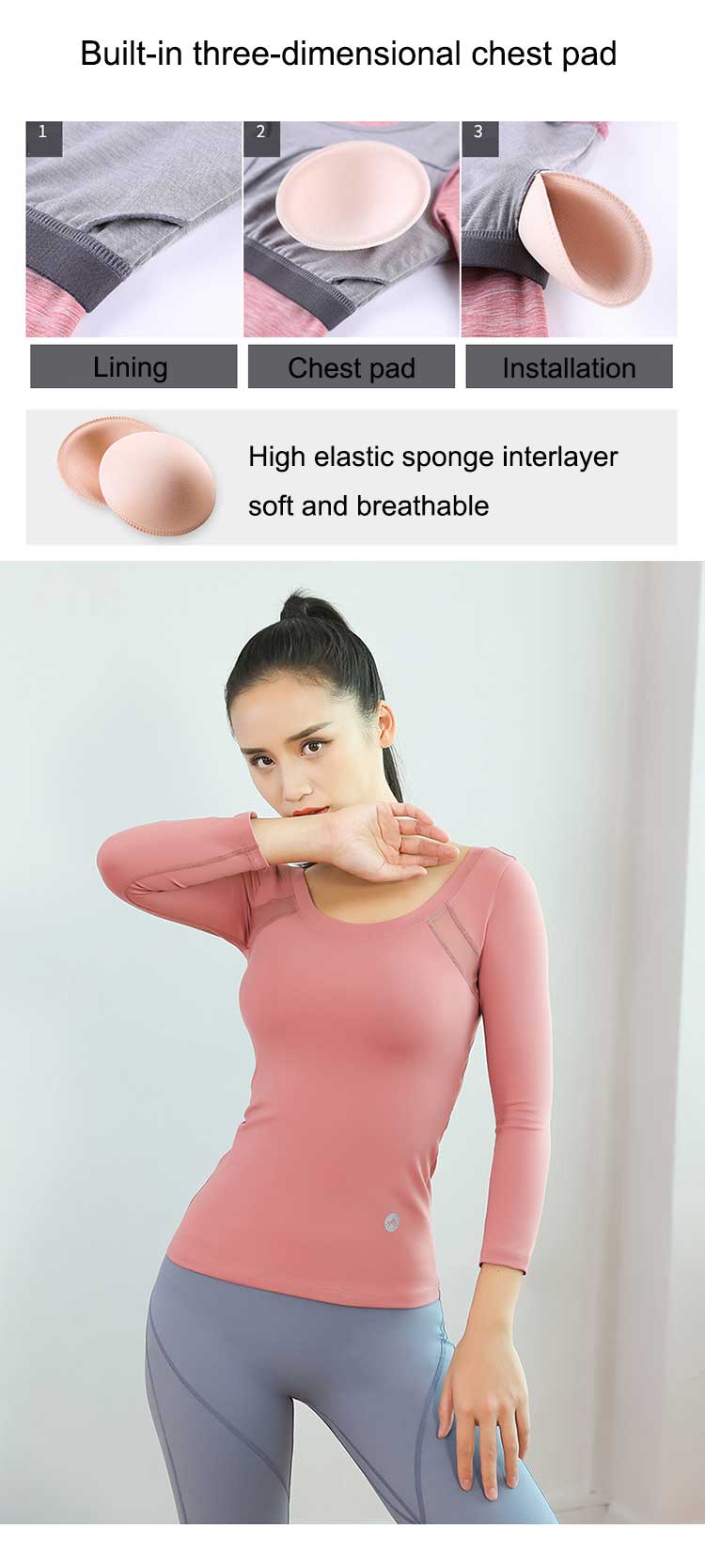 Product
Fabric introduction: polyamide fabric. Polyamide fabric with excellent elasticity and moisture absorption is especially suitable for yoga clothing.
Tight long sleeve workout shirt product features:
Classic large round collar design:fashion and versatile, draw the outline of the neck line.
Yoga T-shirt:breathable mesh design on the back draw the slim beauty back.
Close waist and show thin:The three-dimensional cutting creat thin and small waist.
The three-dimensional chest pad:high elastic sponge interlayer, soft and breathable, not easy to deform; delicate and smooth surface, comfortable and skin-friendly, no damage for clothing.
Removal and installation process of built-in three-dimensional chest pad:
Lining: pull the lining out of the top.
Chest pad: prepare the chest pad, and can use your own chest pad.
Installation: roll the chest pad into a cylinder, and install into the lining ,adjusting to a comfortable position.
Order Info
Payment&Shipping