Workout leggings are widely used in outdoor sports that everyone loves, like yoga, running and exercise. It is a life style of people and HUALLEN workout leggings wholesale make this possible of defining your own outdoor fitness life.
The material characteristics of workout leggings:
1.The best quality fabrics with the feature of exquisite; moisture wicking; bright in color; good color fastness and without fading. HUALLEN wholesale leggings offered rich fabric choice, from maximum 77% polyester and 23% spandex blends to 95% polyester and 5% spandex; High end Coolmax and Lycra blends; Environmental protection and healthy bamboo fabrics etc. More extensive usage scenario.
2.Four needles six lines sewing technique, super compact seam arrangement and no loose threads identified. There are many obese populations who will wear our leggings to do strenuous exercise in the gym, but legging breakage never happens.
3.Sublimation print any custom design, goes forward with your design ideas. HUALLEN Wholesale leggings have the large pattern data bank to offer you a choice, to custom your own personalized leggings design. The freedom and flexible nature of the sublimation print can easily fulfill any design requirements.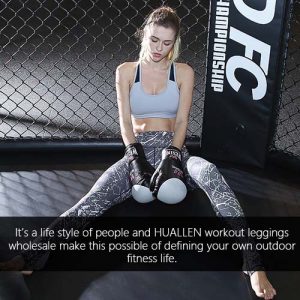 Workout leggings template features:
What is the difference of workout leggings and other leggings? The former one is a more targeted legging design, which is designed to the strenuous exercise training. The workout leggings have its own special sewing trace of the threads. The durability and flexibility required of sports exercise need higher performance of leggings features, the workout leggings use curved side seam sewing, formed two thread trace on the legging back of four needles six lines, one is a rounded thread track in the hip area, the other one is in the waist area. The workout leggings design can satisfy any degree of outdoor strenuous exercise because of its fastness, so there is no need to worry about the awkward problem of breakage in public.
The next is the workout leggings template examples: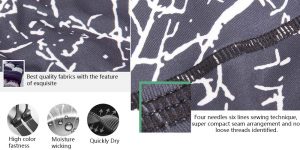 As you can see, the workout leggings design is greatly divergent with others. They are one-piece yoga pants design in comparison for the others, but workout leggings design doesn't like that. Workout legging is divided into two parts from heel to the leg side, which is designed to release muscle tension and fatigue, and provided flexible and durable sports experience.
The circular arc shape sewing trace of the threads in the hip area, which aim to shape hip by the functionality of workout legging.
Innovation can drive us to develop further. Leggings wholesale in HUALLEN, we manufacture outdoor fabrics, printed fabrics and outdoor sportswear etc. We are what we are!