Seamless sports leggings with animals design,classic slimming version, effectively modify the body curve. Draw the outline of big long leg easily, highlighting the elegant temperament of fair maiden. High waist design, comfortable wrapping the abdomen, modify the belly over fat. Draw the outline of hip curve, matched with side stripe hollow-out, there is a clear pull effect to the hip on the vision.Pants body skillfully used stripe hollow-out,clearly or indistinctly showing thign and crus, sexy and catch eyeball. From the side looks like a shark's breathing fin, very domineering yet sexy. Movement is not monotonous. Thin and high elastic fabric,close-fitting but not tight when putting on, easy to wear and take off. Thin and not see through, creating a skin-friendly and comfortable wearing experience while allowing you to better exercise.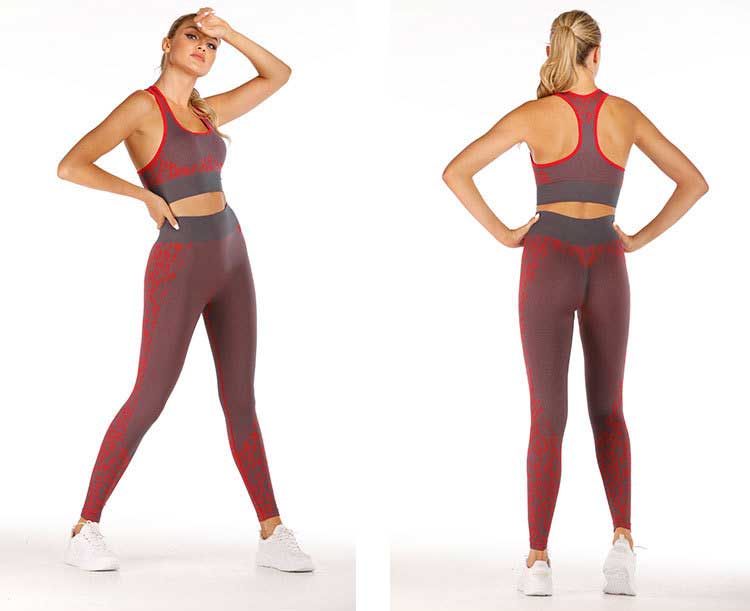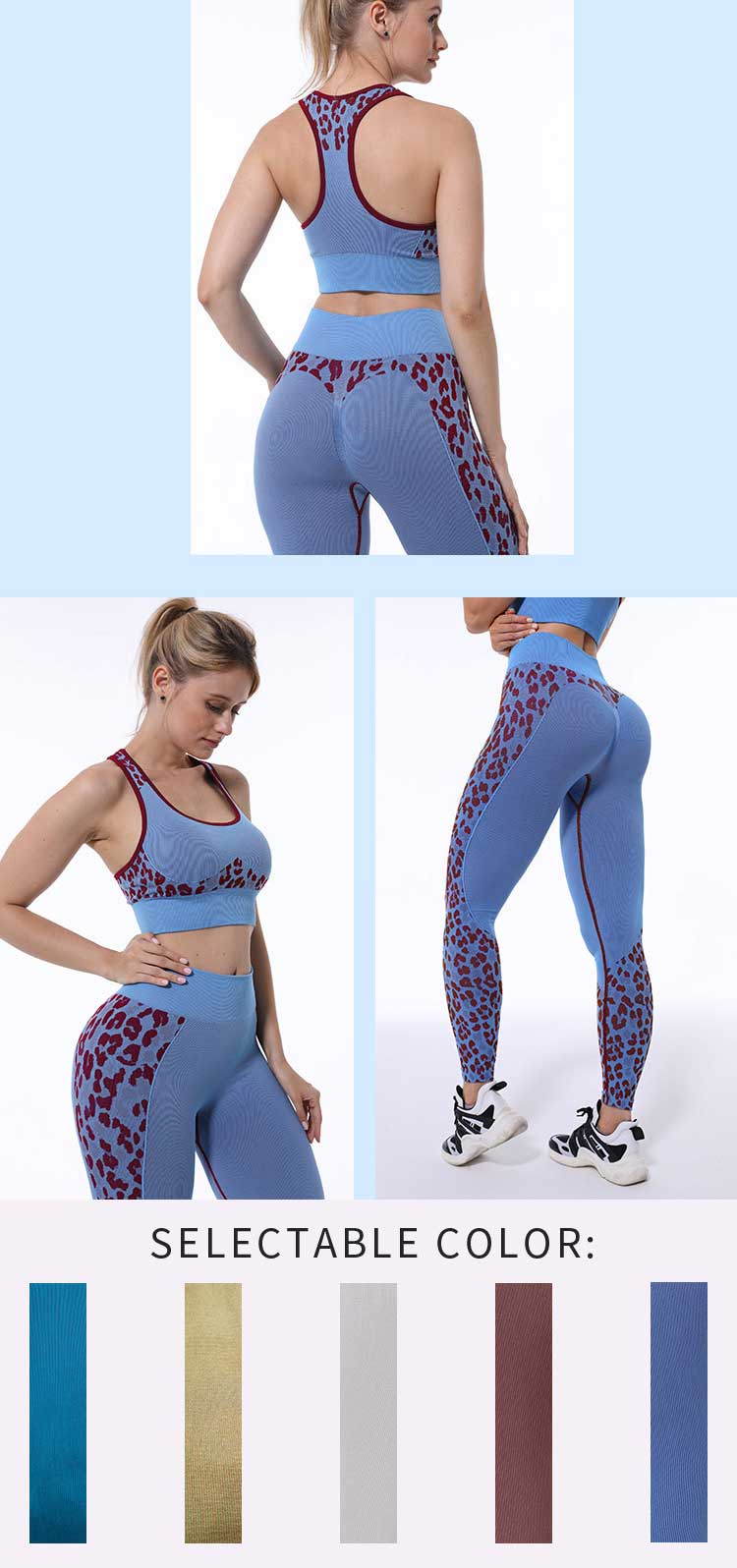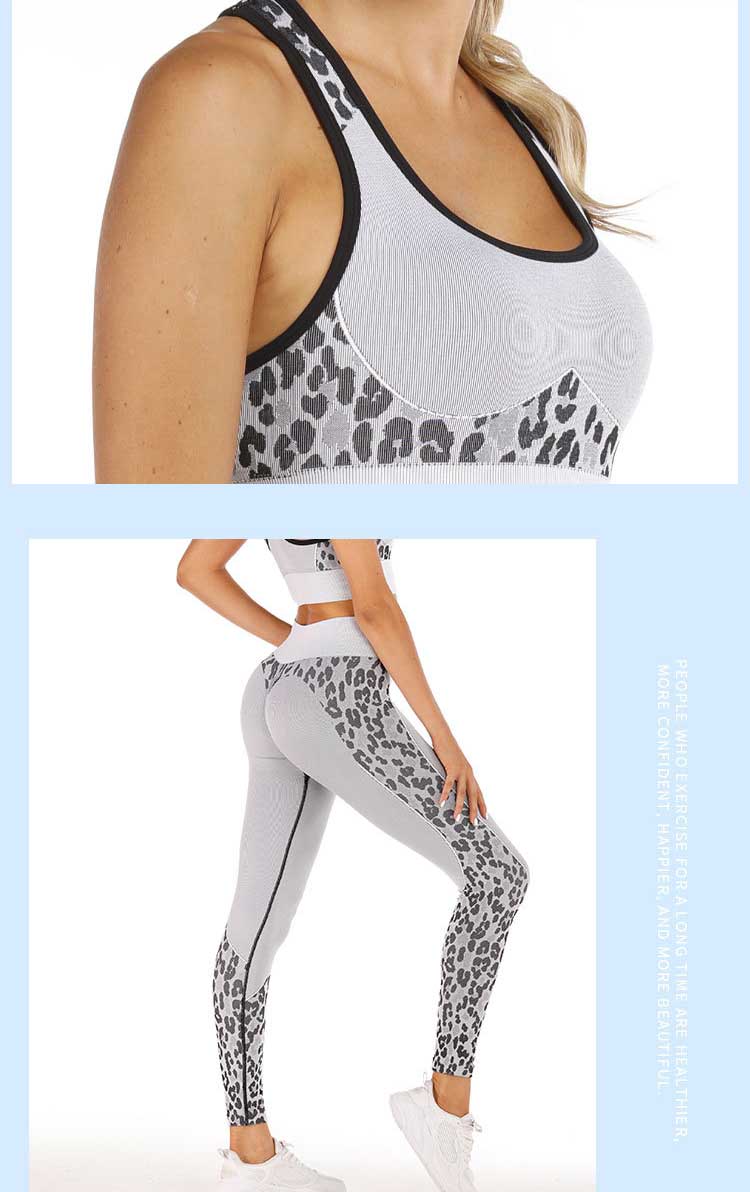 Leopard print design for seamless sports leggings video show
Product Details
Seamless sports leggings fabric description: 75% nylon, 15% polyester, 10% spandex. High resilience, comfortable and skin-friendly.
Product features: 
High waist design: elastic high waist design, draw the curve of beauty's hip, shape tight and lifting hip.
Leg opening design: perfect thread and unique technology, elastic and more fit.
Crotchless design: free movement, smooth line to make the elasticity more firm, effective contraction.
With the continuous refinement development of sportswear industry, consumers have great expectations for sportswear in the market. Seamless sportswear is close-fitting and good malleable,which meets the requirements of comfort. However, consumers still need more functions. For example, when the external environment changes and the thermal balance of human body is destroyed,we need the seamless clothing keep warm in a cold climate,absorpt moisture and breathable in a hot environment ; For a long time outdoor sports, the hope can be anti-bacterial anti-odor, sunscreen, etc.;
At the same time we also hope to improve the performance of sports, relieve the physiological discomfort in the process of sports and so on.
Seamless hollow-out high waist elastic fitness pants are the combination of seamless knitted clothing and sportswear, which is a new functional clothing integrating the characteristics of seamless knitted clothing and sportswear.
This functionality is reflected in the rapid removal of sweat and heat from the body during exercise, as well as the desire to protect muscle tissue with appropriate clothing pressure.
This is because when people are doing sports, especially severe sports, the human body sweat, the micro-environment between clothing and human has changed,then comfortable thermal balance is broken;
In addition, the stretching and bending of various parts of the body during exercise causes some changes in the pressure of clothing on different parts of the body.
Order Info
Shipping & Payment