Hollow out seamless yoga pants, A hip-lifted fitness pants shows perfectly the leg ratio. Delicate silky touch, both careful and girls favoriate skin feeling. Free all scruples and capriciously run,wantonly jump, and enjoy the moment of action.
Elastic high waist fits the waist curve comfortably, without dropping off the crotch.Peach hip-lifted line design, enriched integral modelling, the leg is more slender on the vision. Hollow-out texture at the edge of the pants, breathable and comfortable. Sweat and breathable while increasing the sense of design, eye-catching. Crotchless design, more free movement, you can practice all kinds of movements at will.
With professional sports fabric, good elasticity, improve the stretch of the movement, improve the performance of sports.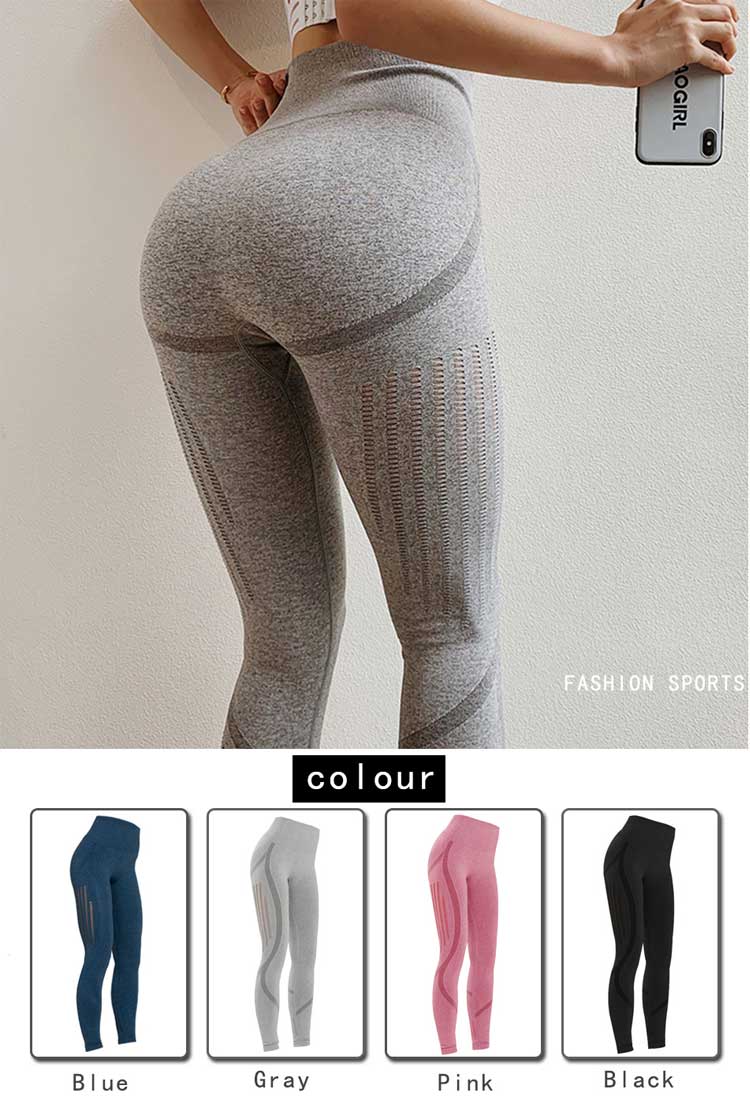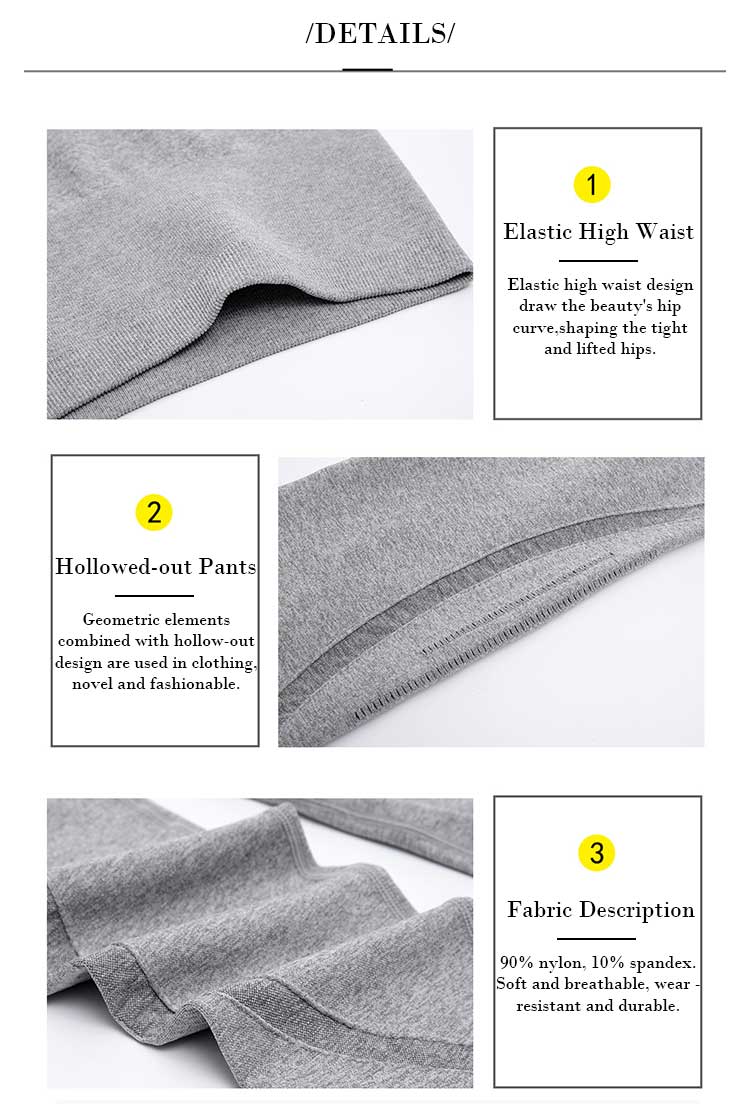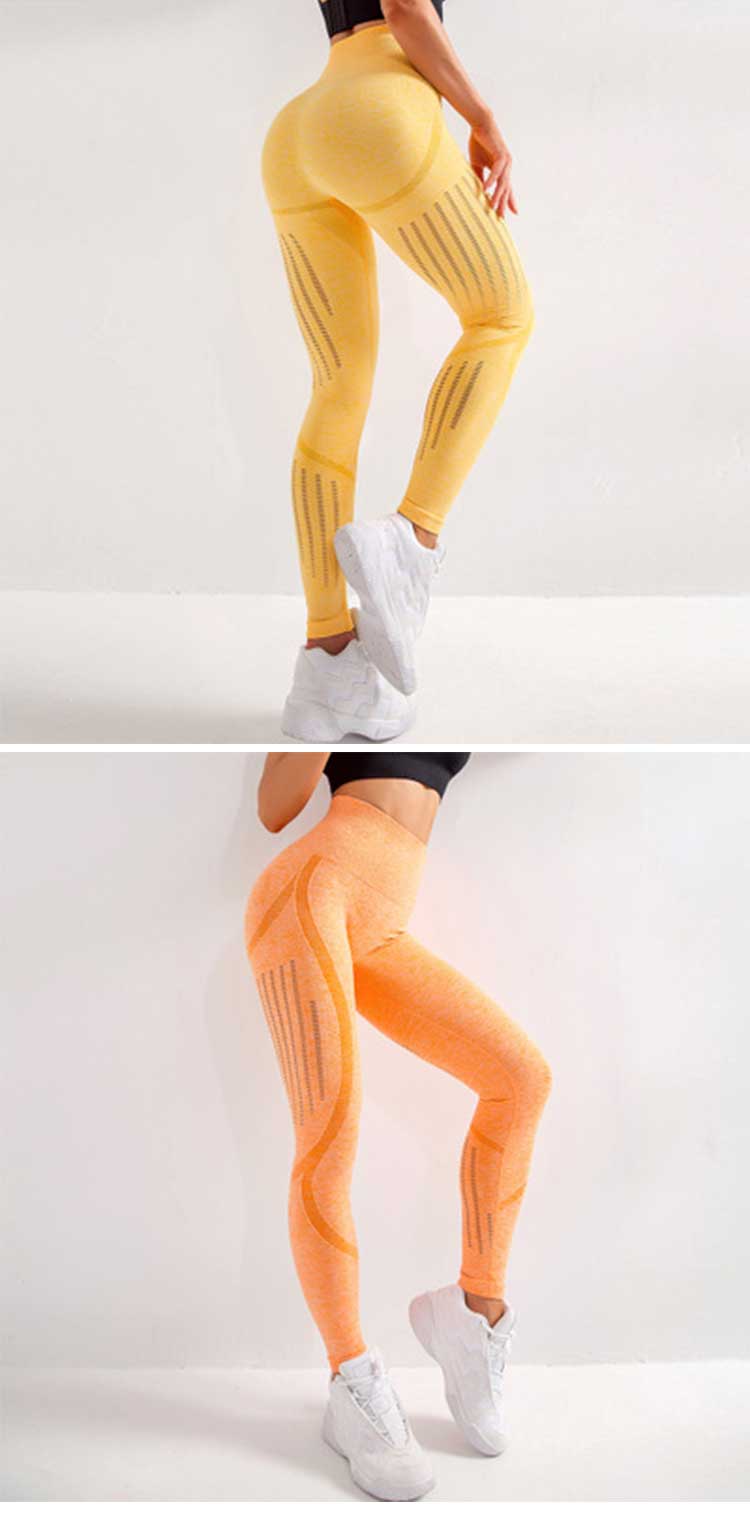 Hollow out seamless yoga pants video show
Product
Hollow out seamless yoga pants fabric description: 90% nylon, 10% spandex. Soft and breathable, wear – resistant and durable.
Product features:
Elastic high waist:elastic high waist design draw the beauty's hip curve,shaping the tight and lifted hips.
Pants mouth design:perfect thread and unique technology, elastic and more fit.
Crotchledd design:Free movement, smooth line to make the elasticity more firm, effective contraction.
Hollowed-out pants leg: geometric pattern because of its simple, anacreontic, give decorative characteristic. Geometric elements combined with hollow-out design are used in clothing, novel and fashionable.
Detail hollow-out can highlight girl's little sex appeal . The empty form has become the mainstream of fashion. The design of minimalist hollow-out presents minimalist artistic design, full of personality, hollow-out fashionable
clothing is the pronoun of see through and sex appeal. The hollow-out seamless yoga pants added the hollow-out design on pants legs according to the need of your clothing style and movement design, which endows them with new vitality and fashion elements and enhances the decorative and visual impact of fitness pants.
This hollow-out seamless yoga pants also has the advantages of traditional seamless sportswear. The reason why it is particularly comfortable to wear the seamless design version is that the seamless product is not stitched,
and the redundant seams and bloated appearance of the clothing in the side seam, shoulder, armpit and other places have disappeared.It has a higher fit and comfort than traditional knitwear, and the clothing is no longer
bound by the elasticity created by the presence of seams. Therefore, seamless sportswear is called "the second skin of the human body", which is comfortable, fit, hygroscopic, breathable,full, smooth and elastic.
Order Info
Shipping & Payment